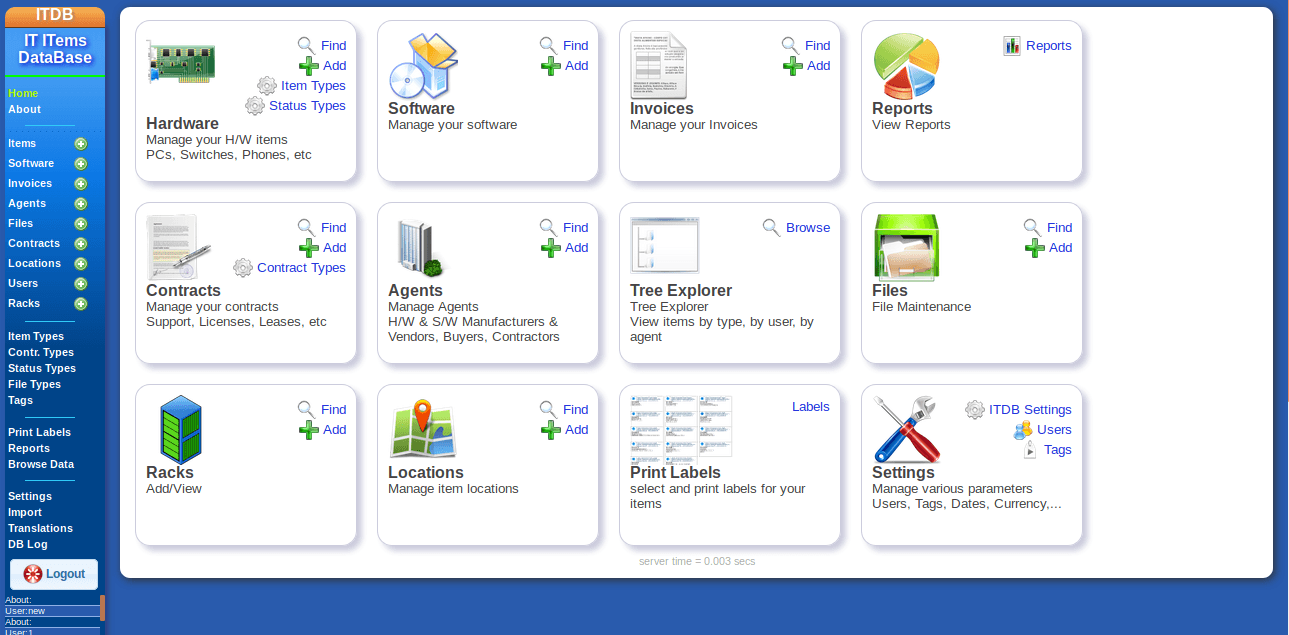 ITDB is a web based asset inventory management tool used to store information about assets found in office environments, with a focus -but not lmited to- IT assets. It is not or targets for ITIL/CMDB compliance (yet), but it has served me for years and hopefully it will do the same for you 🙂
ITDB comes with sources and is distributed under the GNU Public license
Items: specs, warranties, s/n, IP info, what other H/W relates/connects to this H/W, item status, event log, assignees
Software: specs, license info, …
Relations: where each software is installed, license QTY, component relations, contract relations to software/hardware/invoices
Invoices: purchase proofs depicting date, vendor, prices, attached documents
Agents: Vendors, H/W & S/W Manufacturers, Buyers (for different Dpt), Contactors
Locations: location of each asset: building, floor, room, rack, rack row, row depth
Contracts: define custom contract types, like support& maintenance, SLA, etc. Track contract events.
Tags: multiple tags for items and software. You may use tags for grouping according to usage, budget, owner, importance, etc.
Files: attach documents to every main object entity (Items, Software, Invoices, Contracts
Users: who has what or who is responsible for what
Racks: display rack layout with items assigned to each rack row. (supports multiple items/rackrow).
Print labels: print label stickers for tag all your assets, with or without barcode, from phones and laptops to cooling units and ups. Easily define new label paper layouts through the GUI.
One click backup: get a full backup of the ITDB installation and data in a .tar.gz from the main menu. To restore, just extract the backup file on the web server!
All pages are printable: all screen pages/lists/reports print-out nicely, without menus, scrollbars and other clutter.
Interface Translations: translation file support. You may create your own translations (v1.3)
Rudimentary LDAP support: pull userlist for item assignment from an LDAP URL.(Not tested with active directory, and not used for auth.